Learn to merge duplicate contacts in Pipedrive CRM to maintain a clean database. Avoid confusion, enhance accuracy, and save time!
1
Creating a new deal without duplicates
1
Click on the Quick Add menu and type the name of a contact (e.g., Tim Cook).
2
Wait for Pipedrive to finish searching and display the correct contact from the list.
3
Click on the desired contact to link it to the deal
4
Avoid hitting the return key too quickly, as this may create a duplicate contact.
2
Handling duplicates during data import
1
Go to the Import Data options and prepare your import.
2
Map your fields and make sure you have contact information
Map your fields and make sure you have contact information such as phone numbers, email addresses, and addresses for the best results.
3
Choose between creating multiple records or merging data to deal with duplicates.
4
Multiple records: Import all contacts, even if duplicates exist.
5
Merge data
Merge data: Pipedrive will attempt to match and merge duplicate contacts based on names, organizations, phone numbers, and email addresses.
3
Viewing and merging duplicates
1
Navigate to a contact or organization with potential duplicates.
2
Click on the "View and Merge" button if Pipedrive has identified duplicates
3
Preview the merged contact or organization by clicking on the "Preview" button.
4
Merge the contacts or organizations by clicking on the "Merge" button.
5
Alternatively, use the "Merge" option in the contact or organization menu.
4
Using Pipedrive's Merge Duplicates feature
1
Go to More Options > Merge Duplicates to see a list of all potential duplicate contacts and organizations.
2
Periodically visit this page to check for new duplicates.
3
Select the primary contact or organization you want to retain and merge the duplicates.
5
Using Dedupely for bulk merging and advanced duplicate detection
1
Connect your Pipedrive account to Dedupely.
2
Use Dedupely to scan your contacts, organizations, and deals for duplicates.
3
Select and merge duplicates in bulk to save time.
4
Specify different ways of identifying duplicates using Data Pads (e.g., same name, same email, etc.).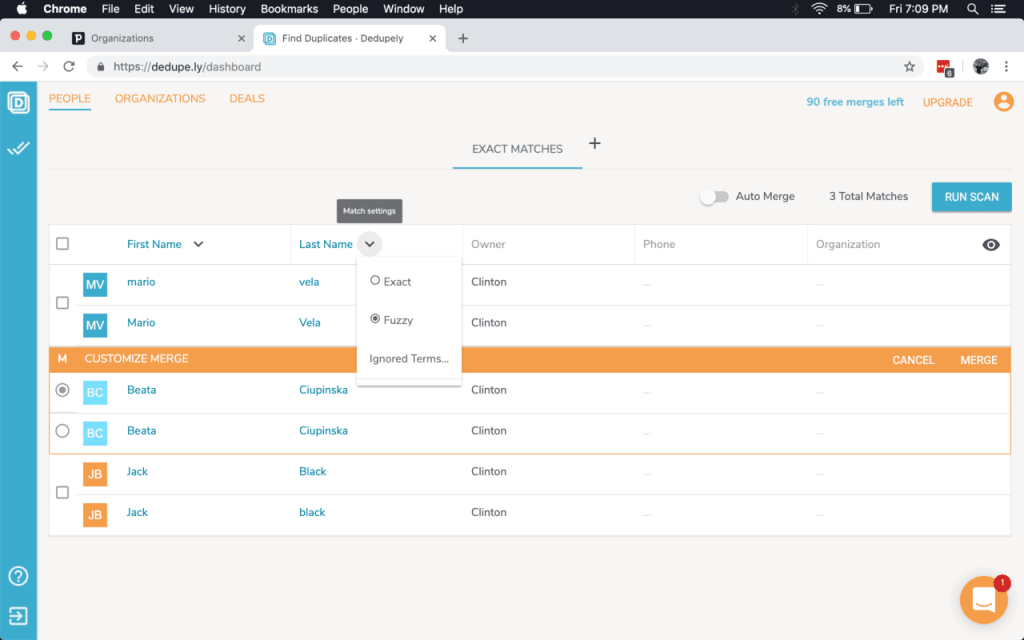 Keep your Pipedrive CRM pristine by merging duplicate contacts. Efficient, accurate, and time-saving – a clean database means better sales and happier customers!