Custom fields in Pipedrive: Tailor your CRM to specific needs, track unique data, and boost sales insights for effective customer management.
1
Understanding Custom Fields
Custom fields allow you to store specific information on deals, contact persons, and organizations.
Deal Custom Fields: Information about a specific sales opportunity.
Person Custom Fields: Attributes of individual contacts.
Organization Custom Fields: Pertinent details about the company or organization.
2
Common Mistakes to Avoid
1
Avoid placing custom fields on the wrong objects
Avoid placing custom fields on the wrong objects. For instance, deal-related information should go on deals, not individuals.
2
Create custom fields on the correct objects for accurate reporting and organized data.
3
Creating Custom Fields
1
Log in to your Pipedrive account.
2
Click on your profile picture or settings icon, then select "Company Settings.
3
Under "Company settings," click on "Data fields"
4
Choose the relevant object (deal, person, organization) to create a custom field for
4
Adding Custom Fields
1
Click the "+ Add custom field" button
2
Provide a clear and descriptive name for the field
3
Choose the appropriate field type (text, number, date, monetary, option, checkbox, etc.)
5
Configuring Custom Fields
Define field settings based on the chosen field type:
For option fields, define the options in the dropdown menu.
For numerical fields, set minimum and maximum values.
For date fields, specify the date format.
6
Field Visibility and Placement
1
Decide whether to pin the field to the details view, ensuring its visibility
2
Determine if the field should be fillable when creating new deals
3
Choose whether the field should appear in the project detail view (if using the projects add-on)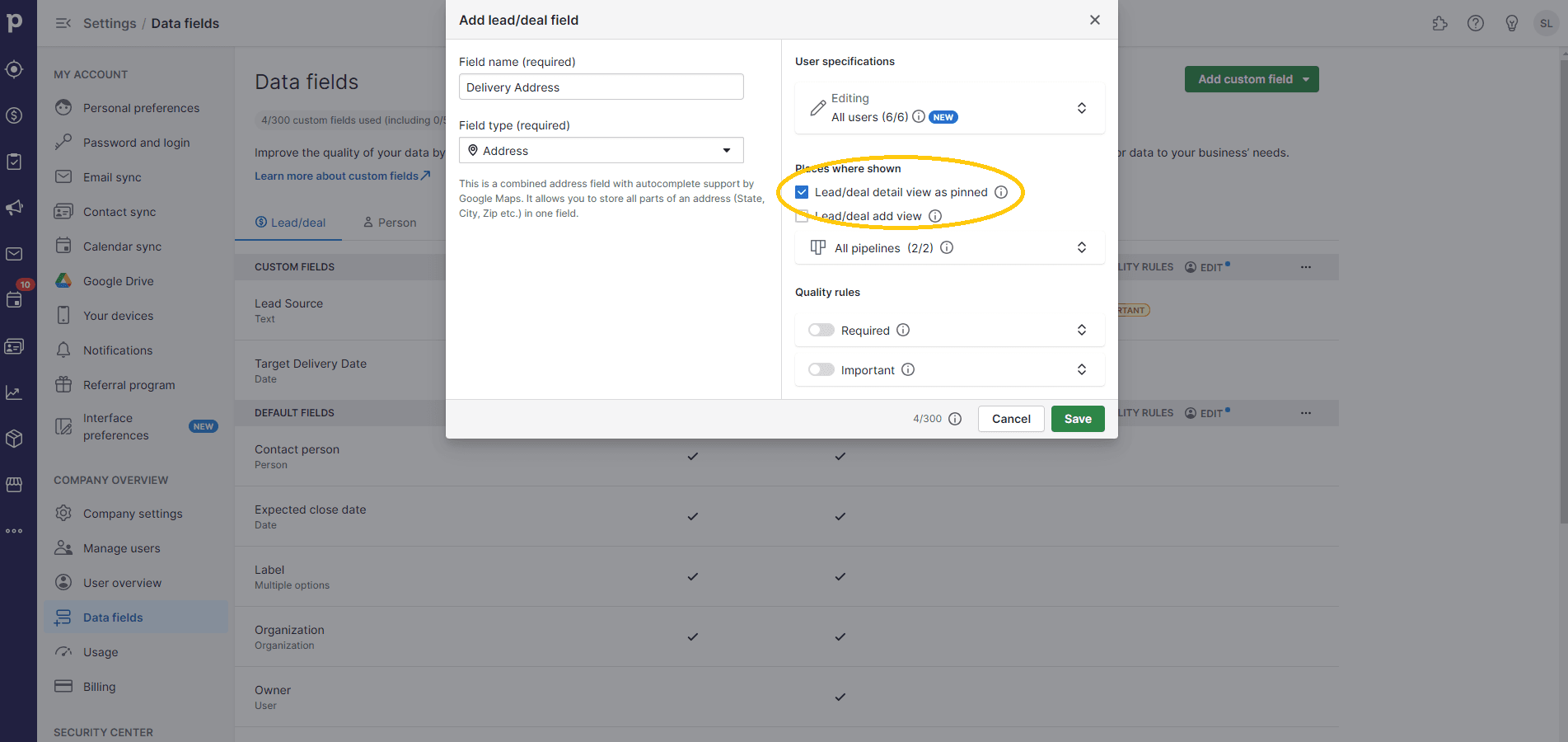 7
Custom Fields for Different Pipelines
1
Custom fields can be tailored to different pipelines based on relevance
2
Enable or disable custom fields for specific pipelines to maintain a clean and organized view
8
Important and Required Fields
1
Pipedrive Advanced and Professional users can set fields as important or required
2
Important fields prompt users to fill in critical information
3
Required fields must be completed before moving a deal to a specific stage
9
Formula Fields (Professional Plan and Higher)
1
Formula fields allow calculations using existing numerical or monetary fields
2
Perform calculations by using mathematical operators
3
Formula fields can be used for commissions, simple calculations, and more
Unlock Pipedrive's full potential. Custom fields empower precise data tracking, personalization, and deeper insights. Elevate your CRM game now!