In the age of data-driven strategies, linking customer data seamlessly from your website to marketing platforms is paramount. It provides a holistic view of the customer journey, enabling businesses to make informed decisions. With this guide on "How to Link Customer Data from Your Website to Customer.io," you'll be equipped with step-by-step procedures to bridge your website's data with Customer.io, ensuring you're always one step ahead in personalizing and optimizing your customer experiences.
1
Navigate to "Data & Integrations"
Go to your Customer.io dashboard. Locate and click on the "Data & Integrations" section.
2
Access "Integrations"
Within the "Data & Integrations" section, find and click on the "Integrations" option.
3
Click on "Customer.io API"
In the integrations list, look for "Customer.io API" and select it.
4
Acquire the JavaScript Snippet
In the API settings, locate the JavaScript snippet provided by Customer.io. This unique code allows your website to communicate with Customer.io.
5
Embed the Snippet into Your Website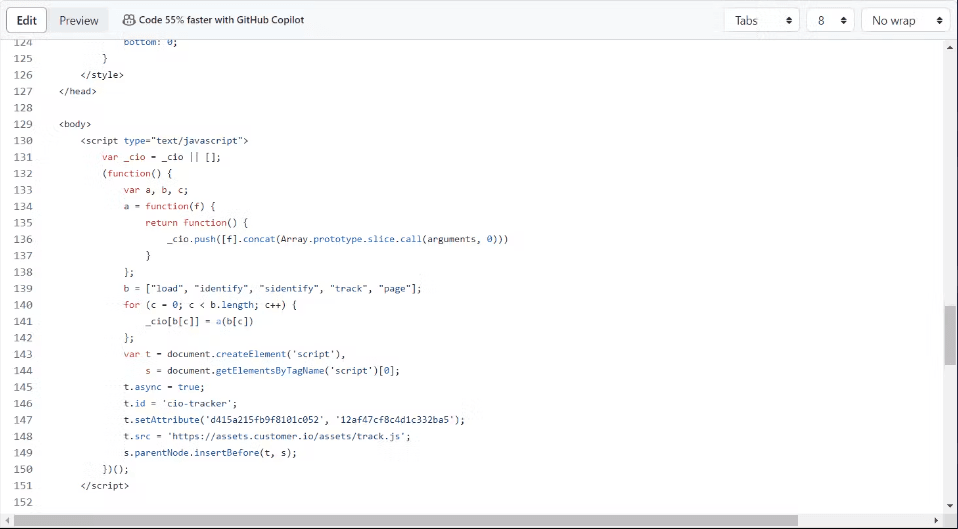 Paste the JavaScript snippet you copied in the previous step into the header of your website. Ensure it's placed before any other scripts to guarantee accurate tracking.
6
Identify Users with cio.identify
To track specific users, use the cio.identify function. It requires a unique ID for each user and can include additional user properties.
7
Track Events with cio.track
Capture specific events on your website using the cio.track function. Name the event and, if needed, include event properties.
8
Review Events in Customer.io
Return to your Customer.io dashboard. Under a specific user profile, you'll see a list of their events in the "Activity" tab, allowing you to view and analyze the tracked events.
Congratulations on reaching the end of this comprehensive guide. By linking your website's customer data to Customer.io, you've opened a gateway to richer customer insights and more tailored marketing strategies. In a digital landscape where every interaction counts, ensuring the smooth flow of data between platforms is the cornerstone of effective marketing.